The Scan
Our state of the art machine at Women's Imaging means that we can offer a high definition breast imaging x-ray. This helps improve our cancer detection rates.
What happens on the day?
You will be asked by the technician/radiographer to remove the clothing on your upper body. Your breast will then be positioned on the x-ray machine and some pressure will be applied to the breast. This is necessary to get the best possible image of your breast. The pressure applied takes no more than a few seconds. Several views of your breast may be taken depending on the size of your breast.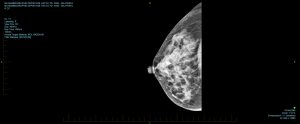 After the images are taken you will be allowed to get dressed whilst the images are checked by our breast radiologist. Depending on your systems and your age, you may then proceed to have a breast ultrasound also.
How long will it take?
The mammogram takes approximately 15-20 minutes in total. This includes getting you ready for the mammogram and having the pictures checked by our breast radiologist afterwards. Each mammogram picture is a few seconds.
Risks
There is usually a small amount of discomfort from this procedure as some pressure needs to be applied onto the breast in order for a diagnostic image to be obtained.
Benefits
We are very proud to have the latest breast imaging technology on the market. Our mammograms are not only designed to reduce radiation dose but more importantly allows us to increase our cancer detection compared to standard breast machines.
Our on-site breast radiologist reviews the images before you leave the practice.
Things you should know
Please do not use talcum powder before you come for your mammogram
Our on-site Breast Radiologist will review the images before you leave the practice